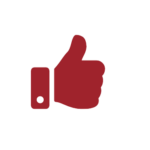 Thank you very much for applying to our available vacancies 
Your application has been successfully sent.
You will soon receive news from our recruitment team.
Good work environment
We are a team of young people, we know how to respect the diversity of our collaborators and we encourage times to have fun and take care of our mental health.
Remote work
We work from all parts of Costa Rica and provide equipment to each of our collaborators.
Multidisciplinary team
We have talent in different areas of technology and creativity, which offers learning and work growth not only in a specific area but collectively.
Constant training
We make sure that all our collaborators frequently receive training that contributes to their work and personal life.
Benefits if you applied for a position with our clients
Personalized tips
Once confirmed in the process, we give you tips according to your needs that will help you in the selection process.
Tendrás más prioridad
Al aplicar a la posición de nuestro cliente desde nuestra plataforma, tu solicitud tendrá más prioridad para ellos
Mejorarás tu CV
Para ayudarte a conseguir esa posición, te ayudaremos a optimizar tu CV de modo que tu perfil se ajuste a las necesidades del cliente
Some people from the team
Kenneth Barrios
SEO Consultant
I have 4 years of working in this great company, where they help you to enhance your knowledge, where you always have a colleague you can trust and rely on and the great benefit of working from your own home
---
Leiner Ledezma
.Net Developer
Working at Atom Soluciones drives me to grow as a person and professional every day.
Yessi Jiménez
Administrative Assistant
Working at Atom is constant growth, challenges every day… it's speaking a language of innovation and creativity, it's teamwork, it's enjoying the pressure and responsibility of creating something new and useful, it's feeling accompanied and supported no matter what challenge is in front of you.
Melissa Chaves
Digital Experience Leader - UX
Working at Atom has allowed me to enjoy my working hours more, since I do it from the comfort of my home, my safe space. In addition, the dynamic with the team is very bearable, people are always willing to help you grow. Sending my CV to Atom has been one of the best decisions of my work life.
---
Our experience backs us up
0
Mission-critical websites